Pioneer AVH-X1850DVD 6.2" Double DIN DVD CD USB Car Stereo AV Receiver MIXTRAX
Pioneer AVH-X1850DVD 6.2" Double DIN DVD / CD / USB Car AV Receiver w/ MIXTRAX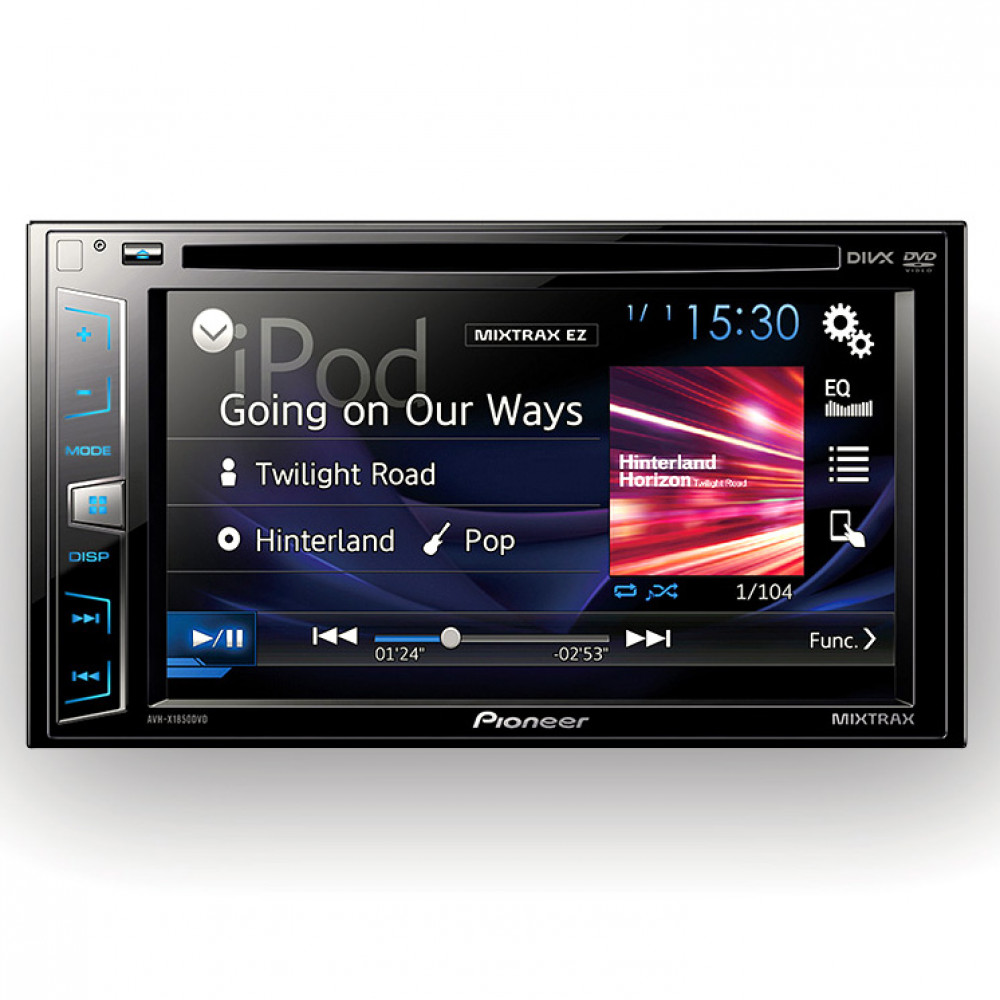 The AVH-X1850DVD features a responsive, powerful and intuitive user interface that is easy to use and highly customizable. It also features a new clear resistive touchscreen that provides brighter, more vibrant colors and increased touch sensitivity, making it more responsive than traditional resistive touch panels.

Clear Type Resistive Touch Panel
Enjoy superb visual clarity under bright daylight conditions with wider viewing angles. The high touch sensitivity is on par with a capacitive screen.

Works With Spotify
You can now have the ability to control content from the Spotify app on iPhone and Android devices. Play, pause and skip tracks, browse playlists, albums and radio stations on the go, directly from the dashboard.

Music For Audiophiles' Ears
This car multimedia receiver offers FLAC file* playback capability at up to 48 kHz/24 bit high resolution CD-quality audio playback. It is also loaded with audio settings to enhance your music listening experience including a 13-band EQ with slope adjustments, time alignment, three-way network mode, auto EQ, Pioneer's proprietary Sound Retriever AIR, and high voltage preouts.

*For the files stored in USB thumbdrive.

Apps in your car
Don't you wish you could run smartphone apps, browse the web, enjoy your favourite music, videos and photos directly from your car dashboard? All this and more is possible with AppRadio Mode.

AppRadio Live
AppRadioLIVE simplifies your drive by combining the information you need during your commute into a single, simple to use interface. It offers quick and easy access to personalized information needed in the in-vehicle environment including: Maps, Media, News and Calendar. Amazed? All you have to do is download the FREE AppRadioLIVE app and start using it now! For more information, please visit www.appradiomode.com/appradiolive

Direct Control
Control your iPod/iPhone or Android smartphone directly from your car dashboard. Enjoy songs from your music library in superior sound quality, while charging the battery

MIXTRAX EZ
Enjoy your beats in an automatic non-stop mix or prepare mixes with the software or app. For more information, please refer to MIXTRAX global page.

High-Grade Audio Parts
Each car multimedia receiver comes with Pioneer's new audio capacitiors for superior sound clarity, enhancing your listening pleasure.

General

DIN Size : 2-DIN

Display : 6.2" WVGA

Preout : 3 (4V)

Playback : DVD/CD

Video Format : MPEG4/H.264/MKV

Audio Format : MP3/WMA/ ACC/WAV

AUX Input (Mini-Jack) : Rear

USB Interface : Rear

Control for iPod / iPhone*1 : Yes

Direct Control for Certain Android Phones*2 : Yes

AppRadio Mode*1 *2 : Yes

SD / SDHC Memory Card Slot : No

Bluetooth : No

MIXTRAX*3 : Yes

Dual Zone Audio / Video : No

Auto EQ*4 : Yes

Advanced Sound Retriever : Yes

Time Alignment : Yes

Password Security : No

Back-Up Camera Ready : Yes


(1) Optional cable CD-IU201V is required to utilize direct control for iPhone 4, iPhone 4S or 4th Generation iPod Touch. Optional cable CD-IU52 is recommended for iPhone 6 Plus, iPhone 6, iPhone 5S, iPhone 5C and iPhone 5. CD-IU52 and CD-IU201V are sold separately.
(2) Optional cable CD-MU200 is recommended for compatible Android Phone
(3) Compatible with MIXTRAX EZ. Not compatible with full-featured Non-Stop Mix Play using MIXTRAX software that analyzes track information.
(4) CD-MC20 is required to utilize Auto EQ. CD-MC20 is sold separately.