CTEK MXS 5.0 TEST & CHARGE - 5A max 12V Battery Charger (UK Plug 220 – 240V) 56-976
CTEK MXS 5.0 TEST AND CHARGE Advanced 12V Battery Charger 5A max (UK)
The MXS 5.0 TEST & CHARGE combines an advanced micro-processor controlled battery charger with a battery and alternator test function to provide the ultimate in battery testing, charging and maintenance.
Charging — The MXS 5.0 TEST & CHARGE provides excellent performance on batteries from 1.2Ah up to 110Ah. The charger solves a broad range of battery problems and features include a patented automatic desulphation step and a special reconditioning step that will revive and restore deeply discharged and stratified batteries. The patented Float/Pulse maintenance makes the charger ideal for long-term maintenance. The RECOND and COLD WEATHER OPTION operate individually or together in both SMALL BATTERY and NORMAL BATTERY programs providing great flexibility for the user.
Testing — Three easy to use programs to test battery voltage, start power and alternator performance to provide a complete picture of battery and vehicle charging system health.
The MXS 5.0 TEST & CHARGE is easy and safe to use, protects vehicle electronics, spark-free, reverse polarity protected and short circuit proof. The MXS 5.0 TEST & CHARGE features a 5-year warranty.

Auto: Fully automatic for optimal charging

12V: For all lead-acid batteries

Step 7: Fully charged battery

Step 8: Maintenance charging

COLD/AGM: Charging in cold conditions and AGM batteries

RECOND: Recondition of deeply discharged batteries

BATTERY: Test battery voltage

START POWER: Test battery starting power

ALTERNATOR: Test alternator charging performance
Volt 12V
Rated Voltage AC 220–240VAC, 50–60Hz
Charging voltage SMALL, NORMAL: 14.4V, COLD/AGM: 14.7V, RECOND: 15.8V
Min battery voltage 2.0V
Charging current 5A max
Current, mains 0.65A rms (at full charging current)
Back current drain <1Ah/month
Ripple <4%
Ambient temperature -20°C to +50°C, output power is reduced automatically at high temperatures
Charger type 8 step, fully automatic charging cycle with adjustable parameters
Battery types All types of 12V lead-acid batteries (WET, MF, Ca/Ca, AGM and GEL)
Battery capacity 1.2–110Ah up to 160Ah for maintenance
Dimensions 168 x 65 x 38mm (L x W x H)
Insulation class IP65
Weight 0.6kg

Included with this model:

(i) Comfort Connect Clamps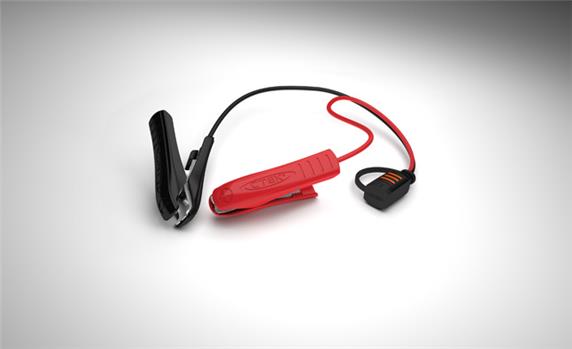 Extension cable allows the CTEK charger to be used further away from the vehicle or battery. To use, simply connect the Comfort Connect Extension cable into your CTEK charger accessory plug and place the other end into the socket of the clamp or eyelet accessories that came supplied with your CTEK charger. The unique CTEK Comfort Connect system ensures a secure connection.

Suitable for use with all CTEK chargers up to 10A using the Comfort Connect system.

2.5M/8' 2" CABLE
MAX 10A

It is delivered with a 2-year warranty.
Article number 56-304
Insulation class IP65


(ii) Comfort Connect Eyelet M6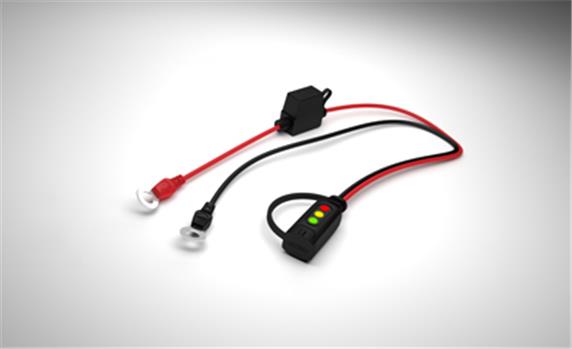 Comfort Connect - Eyelet is available in three different sizes for different battery terminal sizes.

Eyelet: M6 (6,4 mm)
Cable length on all: 40 cm
It is delivered with a 2-year warranty.


Optional, Not included in this model:
(iii) Comfort Connect Cig Plug (Sold Separately)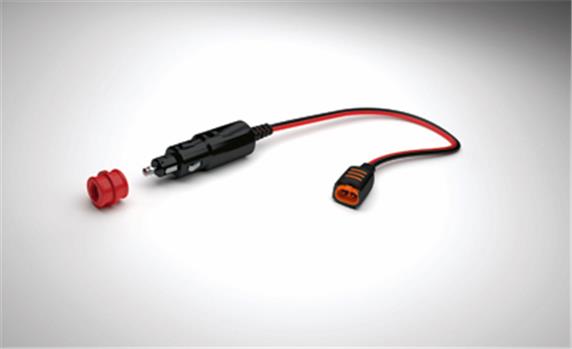 This is a quick connector for truly trouble-free charging.

The battery is charged through the vehicle's 12-volt socket (previously called the cigarette lighter socket).

This is a universal model that fits both 12 mm and 21 mm sockets.

Cable length: 40 cm
It is delivered with a 2-year warranty.

Article number 56-263
Insulation class IP65

(iv) Comfort Connect Extension Cable 2.5 (Sold Separately)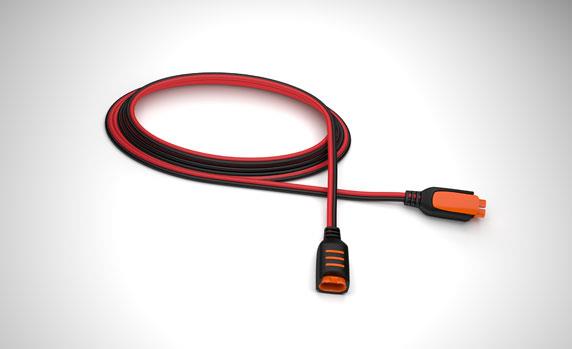 Extension cable allows the CTEK charger to be used further away from the vehicle or battery. To use, simply connect the Comfort Connect Extension cable into your CTEK charger accessory plug and place the other end into the socket of the clamp or eyelet accessories that came supplied with your CTEK charger. The unique CTEK Comfort Connect system ensures a secure connection.

Suitable for use with all CTEK chargers up to 10A using the Comfort Connect system.

2.5M/8' 2" CABLE
MAX 10A

It is delivered with a 2-year warranty.

Article number 56-304
Insulation class IP65