CTEK MXS 3.8 - 3.8A max 12V Battery Charger (UK Plug 220 – 240V) 56-972
CTEK MXS 3.8 All Round 12V Battery Charger 3.8A max (UK)
The MXS 3.8 is an advanced microprocessor controlled battery charger with patented Float/Pulse maintenance for use on batteries from 1.2Ah up to 85Ah. The MXS 3.8 solves a broad range of battery problems and is the ideal charger for everyday use. Features of the MXS 3.8 include diagnosis of battery condition to establish if it can receive and retain charge, patented automatic desulphation programme and a special 'Snowflake' mode for optimum charging on cold winter days. Patented Float/Pulse maintenance means the MXS 3.8 ideal for long-term maintenance. The entire process of battery testing, charging and maintenance is easily followed on the clear LED display.

The MXS 3.8 is a fully automatic 'connect and forget' 12V charger with 7 charging steps and offers selectable 0.8A, and 3.8A programes. The 'Snowflake' modes operates on the 3.8A programe. Wide charging range on all lead-acid battery types from 1.2Ah up to 80Ah with additional maintenance capability to 130Ah. Splash proof and dust proof (IP65). The MXS 3.8 is easy and safe to use, protects vehicle electronics, is spark-free, reverse polarity protected and short circuit proof. The MXS 3.8 features a 5 year warranty.


Auto: Fully automatic for optimal charging
12V: For all lead-acid batteries
Step 6: Fully Charged Battery
Step 7: Maintenance Charging
COLD/AGM: Charging in cold conditions and AGM batteries
SMALL: Program for charging small batteries
NORMAL: Program for charging normal batteries

Rated Voltage AC 220–240VAC, 50–60Hz
Charging voltage SMALL, NORMAL: 14.4V, COLD/AGM: 14.7V
Min battery voltage 2.0V
Charging current 3,8A max
Current, mains 0.5A rms (at full charging current)
Back current drain <1Ah/month
Ripple <4%
Ambient temperature -20°C to +50°C, output power is reduced automatically at high temperatures
Charger type 7 step, fully automatic charging cycle
Battery types All types of 12V lead-acid batteries (WET, MF, Ca/Ca, AGM and GEL)
Battery capacity 1.2–80Ah up to 130Ah for maintenance
Dimensions 168 x 65 x 38mm (L x W x H)
Insulation class IP65
Weight 0.6kg


Included with this model:

(i) Comfort Connect Eyelet M6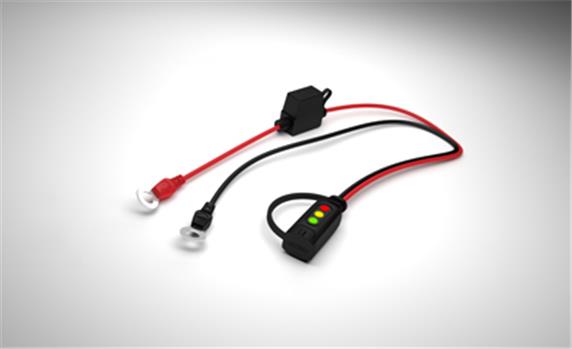 Comfort Connect Eyelet is available in three different sizes for different battery terminal sizes.

Eyelet: M6 (6,4 mm)
Cable length on all: 40 cm
It is delivered with a 2-year warranty.