Alpine R2-A60F R-Series 4-channel Power Amplifier - RMS Power Ratings 4 x 150W @ 2 Ohms
The "R-Series" line of speakers, subwoofers and amplifiers have a heritage of sound quality you can hear from a block away, and the newly added R-Series amplifiers are no exception. Aside from their best-in-class performance, these amplifiers are tuned to emphasize the characteristics of the R-Series speakers and subwoofers, giving you that legendary R-Series experience. They have a 15% reduced footprint compared to the previous models and are easier to install.
Alpine's R-Series R2-A60F amplifier reproduces high-frequency sounds up to 45,000 Hz and is Hi-Res Audio compliant, so you can enjoy the crystal-clear sound and enhanced realism you want in your music. We built some of our top-of-the-line amplifier technology into this R-Series amp, including high-efficiency transformers, premium low-noise custom capacitors, and low-distortion dual "Sierra" feedback/correction circuitry. Whether playing high- or standard-resolution music files, you can count on superior sound quality from this amp.
The Alpine R2-A60F 4-channel amp produces 100 Watts RMS per channel @4 Ohms, perfectly matching the power ratings of Alpine's new R-Series speakers. You can also use this versatile amp in 3-channel mode, driving a pair of speakers with the front channels, and bridging the rear channels to send up to 300 Watts RMS to a subwoofer. Advanced Class-D amp technology allows this powerful amp to be built small enough to fit in almost any location.
R-Series amplifiers are available in two mono and a 4-channel configuration.
Hi-Res Audio Certified
The Next-Generation R-Series Amplifiers are Hi-Res Audio Certified and able to reproduce up to 45kHz frequency response. This ultra-wide bandwidth brings music even closer to the original source, while the classic R-Series design maintains the "loud and fun" performance quality that long-time fans have come to enjoy.
Reduced Footprint
The R2-A60F features a reduced footprint that's 15% smaller than the previous model (R-A60F), making it easier than ever to install in most vehicle applications, while still getting the same powerhouse performance.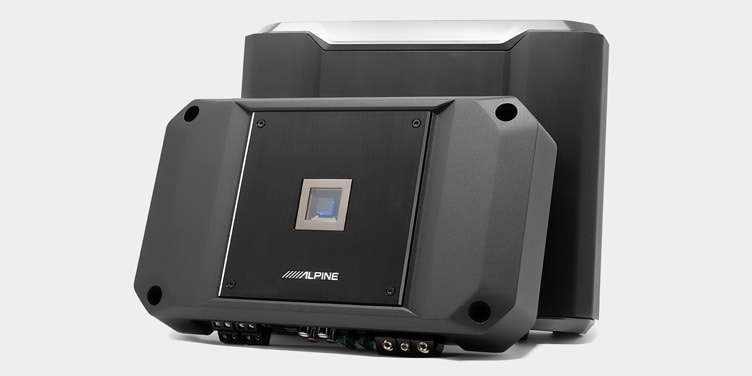 Extensive Tuning Options
The high-pass filters remove extreme low bass from your full-range speakers, so they'll play more efficiently. If you plan to use your R2-A60F to run subwoofers, you can adjust the low-pass filters to get just the right bass tone. Best of all, you can set up the filters for band-pass operation, so you can use this amp to power tweeters and midrange drivers, and use a separate amp like a matching Alpine R2-A75M 750 Watt or an R2-A150M 1500 Watt mono amp to power your subwoofer.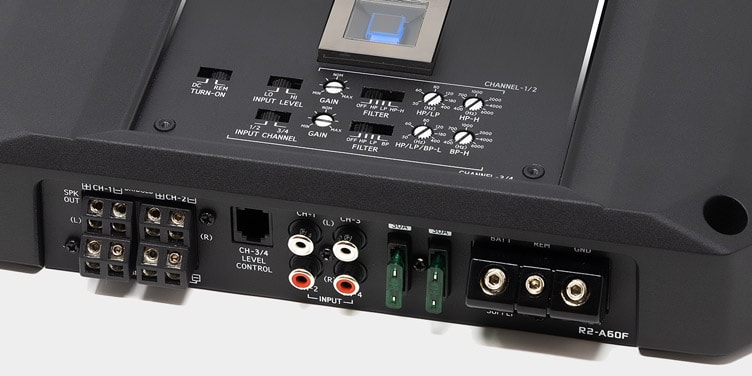 Trickle Down Technology
Using "trickle-down" technology, inspired design, and performance cues from the Ultra-High-Resolution Alpine F#1Status system, the next-generation R-Series amplifiers feature High-Resolution playback capabilities that will take this legendary system to the next level in sound performance.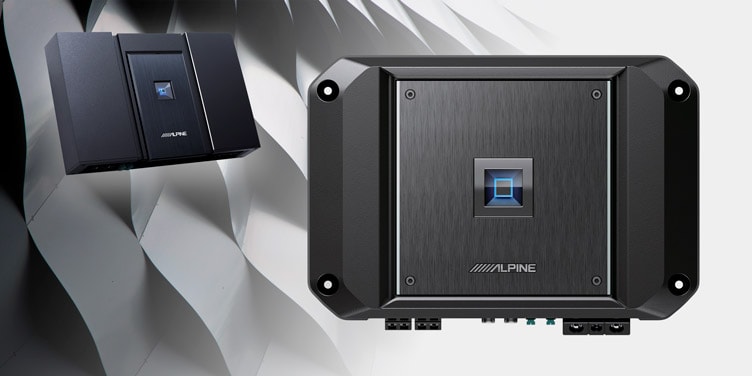 Simplified Installation
Intentional designs were made to the amplifier that consolidated all speaker connections to one side of the chassis for easy access. Amplifier controls were relocated to the top of the device under a removable plate for convenient access to gain and crossover controls. To simplify the installation process, mounting brackets are integrated onto the chassis of the amplifier.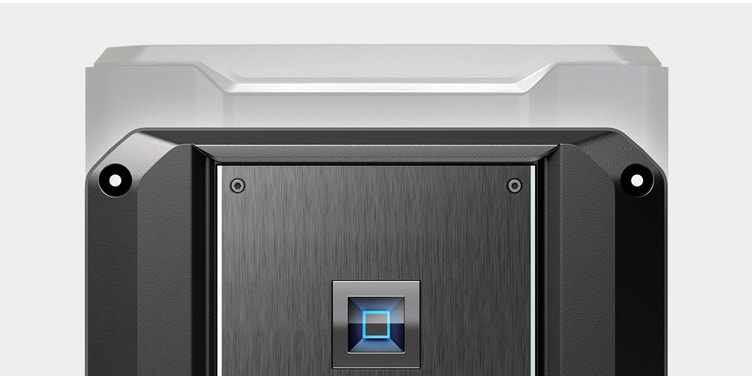 FEATURES
Install

Terminal Layout: One side

Small footprint for easy installation
Screw terminals (for speaker and power cables)
General
Class-D Amplification (Digital)

Channel Design: 4/3/2 Channel
Top panel controls
Thermal Management Control
Top Mounted LED Power/Status Indicator
Speaker Level Input with remote turn on
Crossover: Adjustable Low-pass (LPF), High-Pass Filter (HPF), High-Pass Hi Filter (HPF-HI) and Band-Pass Filter
Adjustable Gain Control
Bass EQ
Remote Bass Control (RUX-KNOB2) Ready (for channel 3+4 in bridged mode only)
SPECIFICATIONS
Max Power Output Ratings
RMS Power Ratings
Per Channel into 2 Ohms, 14.4V (≤1%THD+N): 4 x 150W

Per Channel into 4 Ohms, 14.4V (≤1%THD+N): 4 x 100W
Bridged, 4 Ohms, 14.4V: 2 x 300W
Sound Tuning
Crossover: Variable HPF/LPF: 50-400Hz (-12dB/oct )

Crossover: Variable HPF-H: 400Hz-6kHz
General
Power Requirements: 14.4 V.DC (9 - 16 V allowable)

Input Sensitivity (RCA Input): Hi: 0.5V - 10V / Low: 0.2V - 4.0V
High Level Input with automatic power on
Cable size: Power Cable AWG 4, SPK Cable AWG 8
Frequency Response: 10Hz – 45kHz
THD+N (@ 10W into 4 Ohms): <0.03%
Damping Factor: >100
Weight: 3.3kg
Dimensions
Heat Sink (WxHxD) mm: 282 x 55 x 165