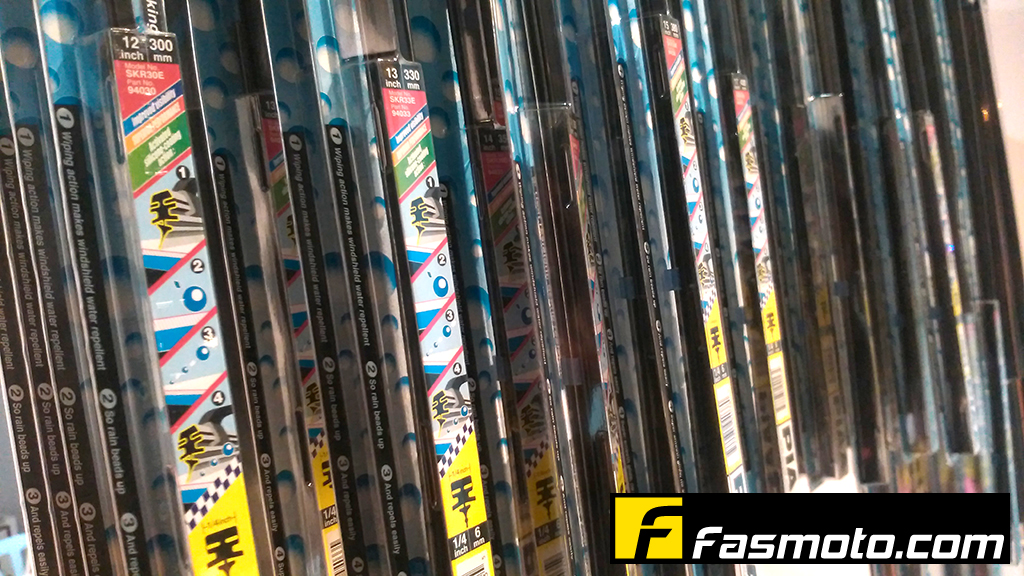 Fits all PIAA Radix & PIAA Aero Vogue wiper blade assemblies. Match the length of the refill to the length of the wiper blade currently installed on the vehicle. PIAA wiper refills will mostly likely NOT fit your Original Equipment and other manufacturers' wiper blade assemblies. The only exceptional case is that if your current wiper has a square-type claw and stop as shown below. We cannot check for compatibility for you here, sorry.
*PIAA's silicone refill width sizes are available in 6mm (for 12" to 22" wiper lengths), 8mm (24", 26" and 28")





The PIAA silicone wiper refill is infused with silicone to ensure greater visibility by coating the windshield with silicone to promote continuous water beading in inclement weather. Water beads up into droplets at low speeds that are easily removed by ordinary wiping. At higher speeds, wind pressure pushes the water off the windshield, often without even requiring wiper use.
The silicone coating also reduces drag and eliminates annoying and inefficient chattering, regardless of the shape of the windshield to provide greater comfort for both driver and passenger. The PIAA Super Silicone Wiper Blades reapply the silicone coating every time the wipers are used.PIAA wiper blades maintain a sharp, clean edge and offer better resistance to all climates -- heat, ozone, ultra-violet, and wear -- clearly outperforming the industry standard.
We accept the following payment methods:
Online Banking via BillPlz (Banks within Malaysia Only).
Credit Card via PayPal.
For cash deposit or wire transfer direct into account, please select Bank Transfer upon checkout.
Company's Bank Information for Online Banking / Telegraphic Transfer:
Bank Name: Malayan Banking Berhad (MAYBANK)
Bank A/C No: 564753109176
Bank Swift Code: MBBEMYKL
Company Name: Naluri Semesta Sdn. Bhd. (1128299-W)
Company Address: 3, Jalan Mawar 15, Taman Mawar
City: Cheras
State: Kuala Lumpur
Postcode: 56100
Country: Malaysia
Tel: +603 4287 1102
GST Tax ID: 001042362368

Please email proof of payment to cs@fasmoto.com (only required for bank transfer method)
Fasmoto ships from Kuala Lumpur, Malaysia.
If you want it fast, we recommend you contact us directly and buy from our shop. We cannot guarantee shipping services speed as it is beyond our control.
We use express courier services. Transit time is usually between 3-5 working days for within Malaysia.
For domestic deliveries, we use either Poslaju or Aramex, depending on the product and shipping location.
For International customers, your delivery is calculated by the shopping cart system and the available delivery services will be presented for you to choose from.
The services we have available for International shipments are Pos Malaysia Economy, DHL Ecommerce, DHL Express, Aramex and UPS. Subject to availablity and will vary based on product and shipping location.
Shipping rates shown on website is not final. Remote area charges may apply for certain destinations.
Handling time for all orders is 2 working days maximum from the payment's date, unless otherwise specified. We may ship it earlier if we are able to.
Once item is shipped out, you will receive an email from us stating the tracking number of the shipment and how you can track your order.
Transit time is based on standards provided by the courier companies. Hence, we are not responsible for any delays while the delivery is in transit. Economy will typically take about 2 - 3 weeks and Express is typically 3-5 working days excluding customs delays, if any.
We do not ship to P.O. boxes.
We do not provide Cash on Delivery (COD) services. You can choose to pick up your order at our shop but please note that all orders must be made and paid before you drop by our warehouse to collect your orders. If you would like to walk-in and purchase, kindly contact us before hand to ensure the goods are available.
Warehouse pick-up hours is Mondays to Fridays 10am to 8pm, excluding Public Holidays.

How Your Order is Processed
Here's an overview on how we process orders at Fasmoto, with the corresponding 'Order Status' which we will update you via email.
Awaiting Payment: Once you've submitted an order, this will be the default status, unless you've made payment already.
Retrieving Stock/Packing in Progress: After we've verified your payment, we will retrieve your stock from our warehouse. It's important that you submit your proof of payment to us as soon as possible to avoid delays.
Awaiting Courier Pick-up: We'll pack your orders and attach the shipping labels to it. Your order will then sit in our warehouse waiting for the courier service to pick it up.
Delivery En Route: This is the moment your order is picked up by the courier guys and left our warehouse. From here on, you can track them from each respective courier services' website.
Completed: This is the finale status, when we get confirmation from our courier partners that the package has been delivered to you.
PIAA Silicone Wiper Refill / Insert (6MM Width)
Related Blog Posts
Find out your vehicle's wiper measurement: audiotech.fasmoto.com/2013/08/wiper-sizes-and-fitting-application-guide-for-malaysian-vehicles/ Fits all PI...